The MICHELIN® Difference
More science inside. More performance on the road.
More value per mile.

No one makes tires like MICHELIN®. That's because MICHELIN® recognizes that you need it all from your tires — safety, a comfortable ride, fuel efficiency, grip and control, toughness, and more. Safe, everyday driving demands it. Many of those performances naturally compete, and increasing one tends to decrease another. That's not acceptable at MICHELIN®.
It's why we put more science into our tires, minimizing the trade-offs and maximizing performance. So you can get the signature performance you want most without giving up the others in the process. That's MICHELIN® Total Performance™. And it's why you'll see the same technology that helps us win the most grueling endurance races make its way into our street tires.
Shop MICHELIN® tires with us today.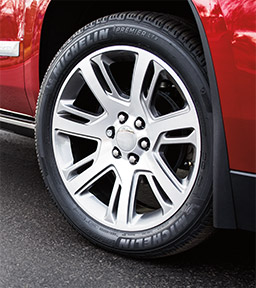 THE MICHELIN® PROMISE PLAN™
Your satisfaction. MICHELIN®'s Promise.
We want you to be 100% satisfied with your MICHELIN® passenger or light truck replacement tires so they are backed by the MICHELIN® Promise Plan™.
60-Day Satisfaction Guarantee¹
3-Year Roadside Assistance²
Limited Mileage Warranty³
1. Certain conditions and limitations apply. See the Michelin Owner's Manual for complete description and details.
2. This service does not cover the repair or replacement of your tire. Service applies only to motorized passenger and light truck vehicles and specifically excludes trailers, recreational vehicles, commercial vehicles and any vehicle used for farm, ranch, agriculture, racing, or off-road service.
3. Excludes DOT–approved competition tires (e.g., MICHELIN® Pilot® Sport Cup tires) and Original Equipment tires starting with 2018 model year. Mileage warranties vary by tire line. See your tire retailer or click here for more details on specific mileage warranties, including those for split fitments.
MEET OUR FEATURED TIRE MODELS
MICHELIN®
DEFENDER® LTX M/S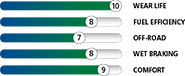 Get the proven tread design of the best-selling MICHELIN® LTX® M/S2 with EverTread™ compound to provide durable treadlife, no matter the season.
Improved treadlife in severe conditions.
Excellent wet and snow traction.
Quiet, comfortable ride.
¹ Based on resistance to gravel and severe wear testing compared to the MICHELIN® LTX® M/S2.
Luxury Performance Touring
All Season Tire
Performance in Every Season
Drive with Michelin®'s latest generation of all-season tire technology, providing steady traction in dry and wet conditions for year-round performance.
Superior braking on wet pavement.¹
Long-lasting, all-season performance.
3PMSF rated for severe snow service.
¹ Based on internal wet braking tests from 50 MPH using tires in size 235/55R18 on a 2020 Toyota RAV4 where the MICHELIN® CrossClimate®2 tire had an average stopping distance of 142.9 ft against Continental® CrossContact™ LX25 with an average stopping distance of 195.8 ft and the Goodyear® Assurance® WeatherReady® with an average stopping distance of 198.6 ft; and in size 215/55R17 on a 2019 Toyota Camry where the MICHELIN® CrossClimate®2 tire had an average stopping distance of 181.0 ft versus the Bridgestone® Turanza™ QuietTrack™ with an average stopping distance of 216.2 ft and the Continental® PureContact™ LS with an average stopping distance of 227.8 ft. Actual on-road results may vary.